Our unique concept for the gastronomy sector
High quality water filtration systems for companies, wellness hotels and restaurants
Change comes from within
The SWS gastronomy-concept is the perfect solution for all who want to stand out
Sustainability is currently an omnipresent topic within our society. From food to consumer goods to mobility, a change of mindset is taking place that (often) neglects one important issue: our drinking water. The unconscious handling of drinking water contradicts the principles of conscious consumption and opens up opportunities for you and your company to stand out from the crowd. If you place high value on quality, then you should also place as much value on your water – the Swiss Water Systems refining units will help you achieve this!
We at Swiss Water Systems have made it our business to provide people with uncomplicated access to pure, cellular water and to educate them about the subject of (drinking-) water. Therefore, in addition to our units, we also offer lectures and seminars to sensitize people to this important topic. Of course, this offer also applies to companies that want to invest in the well-being of their employees and need support in communicating the importance of cellular water and how it works in the body.
We would be happy to train your employees in this area and/or provide you with materials to support you in imparting knowledge and raising awareness. Just contact us – we will be happy to help!
The Swiss Water Systems gastronomy concept is the perfect solution for supplying your company with pure, cellular drinking water – both for your employees and for your customers.
We offer you a complete solution that can be fully customized according to your wishes and circumstances. In terms of appearance, fittings, scope, etc., there are virtually no limits to what we can do. Therefore, we are sure that we will develop the optimal unit for your company as well. Set yourself apart from your competitors now and invest directly in the well-being of the people who are largely responsible for your company's success. Our premium water filtration systems for hotels, businesses and restaurants make it possible.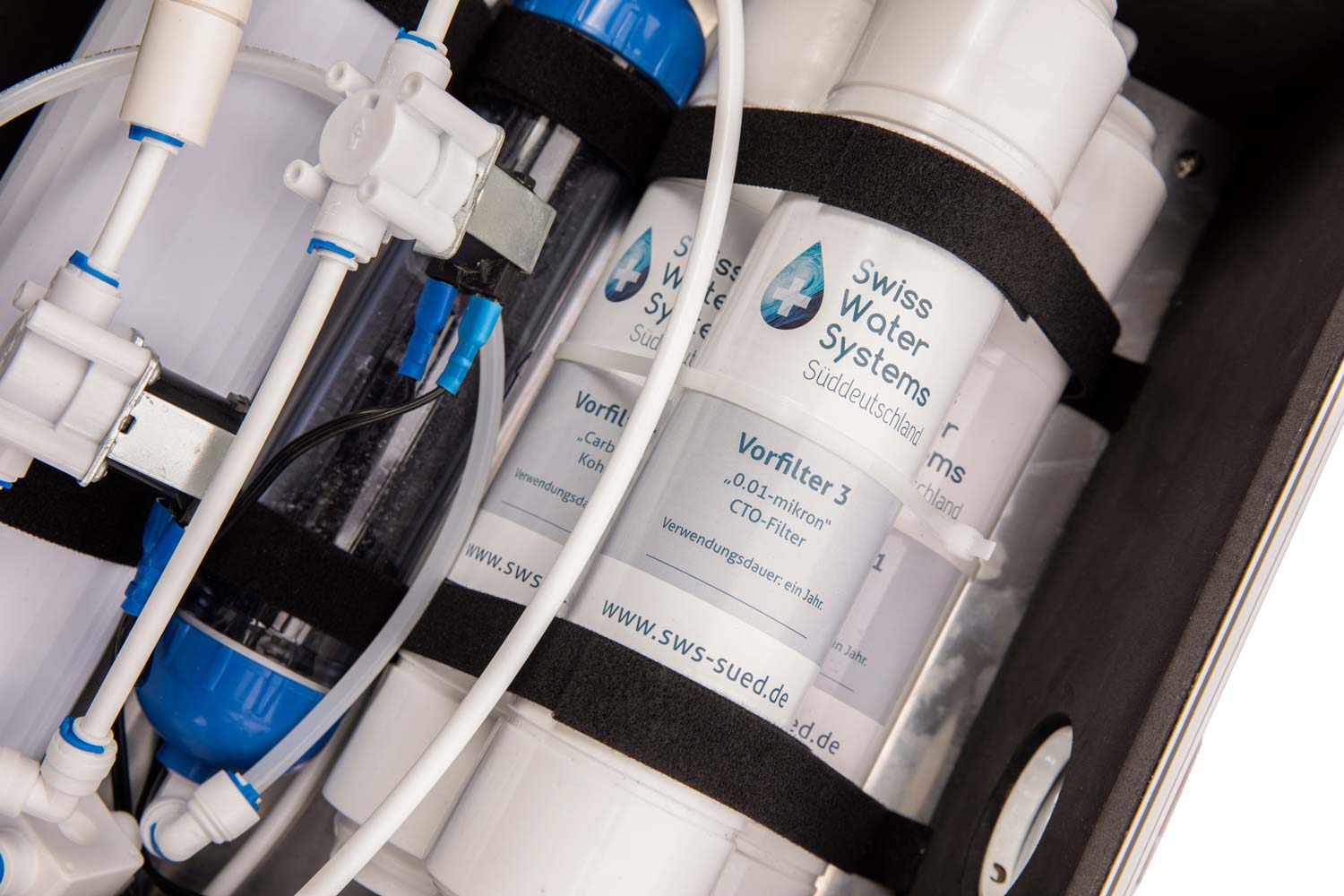 This is your chance for more quality
You are sustainable, conscious and progressive? Your company has high quality standards? You invest in the well-being of your employees? Then we have just the right thing for you!
No compromises
We offer you a premium water filtration system for your company!
Individual solutions
The gastronomy version of our premium water filtration systems for businesses can be customised 100% and geared entirely to your needs. Due to the modular design, there are no limits for us and we can design the perfect system for your company. We do not shy away from any challenge – so get in touch with us!
(In)visible
You do not want a visible filter system that is unattractive to the eye? No problem! Our premium water filtration systems are fully integrable and can be designed to perfectly fit your premises. It does not matter for which type of business you are using the Swiss Water Systems refinement unit. Restaurant, hotel or company – we are happy to advise you!
Beneficial to the well being
Another possible application of our premium water filtration systems can be found in spa & wellness areas. Pure, energized and structured water is the perfect complement for a stay in the wellness oasis. Pamper your guests, do something good for them and give them access to pure, cellular water with Swiss Water Systems refinement systems. For noticeably more vitality.
The potential of our elixir of life
Pure, cell-permeable drinking water does not have to be the exception – the decision is yours
Increase the productivity of your employees, promote the well-being of your customers, dispense with unnecessary supply chains, save on the storage of bottled water – rely on the pure, cellular water from our premium water filter systems. With our maintenance & service package, you are also perfectly positioned for the long term and also receive a complete hands-off solution. Simply get in touch with us and one of our experts will gain an overview of the conditions in your company so that our team can develop a unique gastronomy concept that perfectly suits your needs. You can also conveniently use our contact form to arrange a no-obligation consultation appointment with us now – we look forward to exchanging ideas with you.
"To drink water of the purest quality is the purest of pleasure.
The genuineness and softness of the pure water make drinking into a real experience."

– Sebastian Ballner-Kirchner, Gourmet Chef
As a chef and gourmet, I am an absolute connoisseur and so I pay attention to what I put into my body. For me, quality always means natural, pure and unaltered. That is why it is easy for me to identify with the water refining systems from Swiss Water Systems. The extensive purification & refinement process produces pure, cellular water that meets the highest standards. For me, optimal drinking water is the perfect complement to a daily high-quality and balanced diet.
In addition to the health benefits of pure, cellular water, I am also impressed by the taste properties and the fact that Swiss Water Systems has firmly anchored conscious consumption and a focus on sustainability in its own self-image. In my view, the fully customizable gastronomy concept is an exciting approach to making an extensive treatment and refinement process attractive for use in any company.